Mattel Stock Photo
So In Style Skating Fun Kara and Kianna have been seen in a West Coast Wal-Mart.  Kara appears to be fully articulated (elbows and knees).
In the above stock photo, Kara has gone super curly and has an open smile with the appearance of teeth.  I have seen a production photograph.  T
he hair on the produced dolls is less curly and Kara's mouth is closed, no teeth.
For those...
---
So In Style Locks of Looks, top-bottom:  Grace & Courtney; Kara & Kiana; Trichelle & Janessa
photographs courtesy of AngelicDreams.com

The new
So In Style
doll line,
Locks of Looks
, should be widely available by the end of this month.  I was able to find and gain permission from Allison Harman of
AngelicDreamz.com
to use the above images of the actual dolls, photographed by Gorge Gonzalez, owner of...
---
Before running out to Target, Wal-Mart, Toys R-Us or other local retailer to scoop up the remaining quantities of So in Style dolls, shop online first.
Below is a link to the current So In Style dolls at Mattel.com -- not all items shown are available. Click on each item to see if the "add to cart" button is there. Currently, Mattel.com is offering free shipping on all orders (not sure how long...
---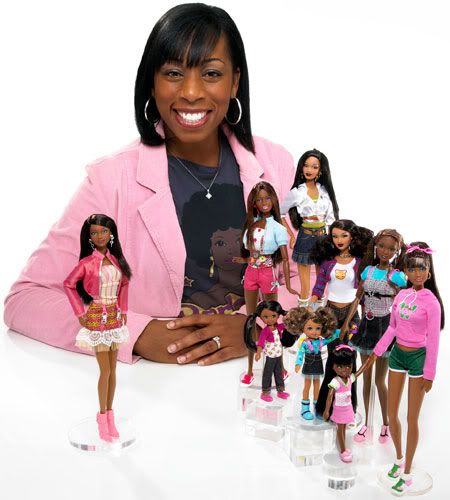 It's official... as of Friday, January 28, 2011, Stacey McBride-Irby resigned her position as doll designer for Mattel. I was saddened to read about her departure this morning. The news actually reached my in-box Saturday, January 29, 2011, via an email (that I opened today) from the So In Style Fan Club email group, of which I am a member. The note assures that "She has already designed So In...
---
I found Janessa alone at Walmart yesterday.  Julian and Zahara were nowhere to be found.  In fact, with the exception of Janessa, the two display racks for the new S.I.S. Friends were bare.  After examining Janessa and explaining to my husband that the others had probably already found homes (to him I said, were sold out), I decided I couldn't leave Janessa there.  She needed a home, too.
The back...