Note:  This article was originally written and published in my Black Doll-E-Zine group in the spring of 2009.  Those who collect vintage dolls and enjoy unveiling mysteries that surround them might find it interesting.
Gloria Lockerman in November 1955 with my former mystery doll
Approximately two years ago, I began a search for a doll like the one held by Gloria Lockerman on the cover of the November 10, 1955, issue of
Jet Magazine
, above.
In August 1955, Gloria was a 12-year-old spelling whiz who won $16,000 on The $64,000 Question game show by correctly spelling the word, antidisestablishmentarianism. At the time the doll and Gloria were featured on the cover of
Jet Magazine
, I was 6 months old. The doll, having been made during the time of my birth year, inspired me to desire it for my collection.
While surfing eBay for "black Madame Alexander" dolls in March of this year, I found an auction, which was titled, "Vintage Madame Alexander Cynthia 1950s doll LOOKALIKE." In the auction photos, the doll did not resemble Madame Alexander's Cynthia, but it did closely resemble the doll Gloria held in the magazine cover image. I decided to watch the auction and bid to win, which is what happened. I believe the doll is the same doll in the magazine cover image. The only difference in the two dolls is their outfits. My doll was manufactured as a bride. The doll that Gloria held wore a casual dress.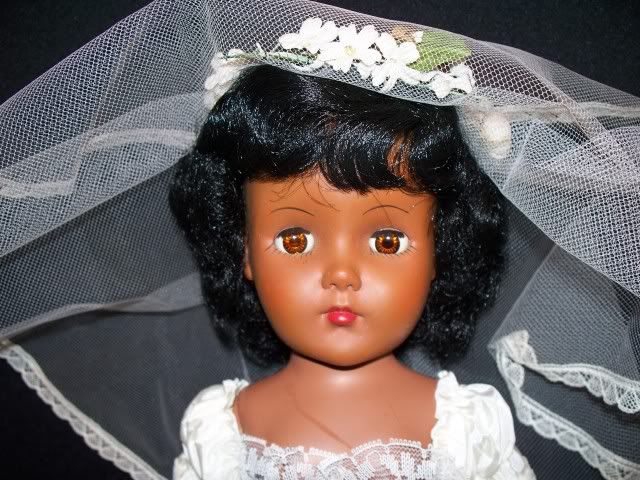 Princess Anna
My doll is very well preserved and arrived with the bottom of its original box. The box contains the doll's name, Princess Anna Walking Doll, the Stock #850, and the word,
"COLORED"
stamped near the name. Princess Anna bears the neck marks: 17VW.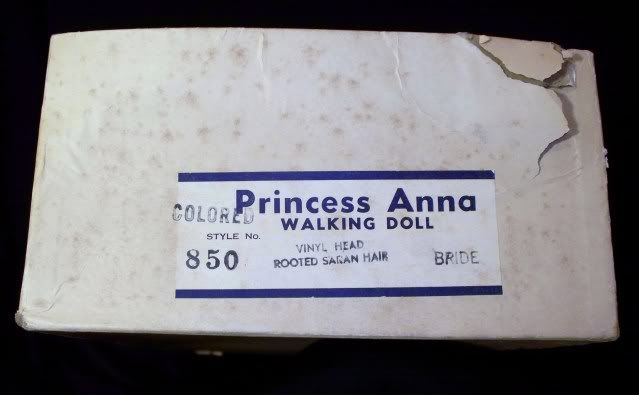 Box label
The Valentine doll company used the VW mark for their dolls. Therefore, with the mystery solved and with happy ownership, I believe Gloria Lockerman held a Princess Anna doll in the
Jet Magazine
cover image. Her doll, like mine, was made in 1955 and was probably marketed for a few years thereafter.
For more information about Gloria Lockerman's game show experience, visit the following URL:
http://www.flickr.com/photos/vieilles_annonces/1386503978/sizes/o/
In addition, below is a YouTube video by Youtuber, OurKrazyKulture from September 2009, which provides additional details about young Miss Lockerman's game show experience and the post-show controversy that developed.
dbg
Please adhere to copyright notice (see bottom of blog).